Lonny's Blog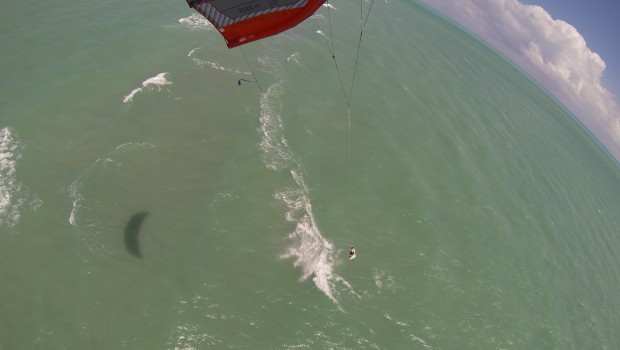 Published on April 6th, 2016 | by Lonny
0
A fishy tale – Revenge of the Sushi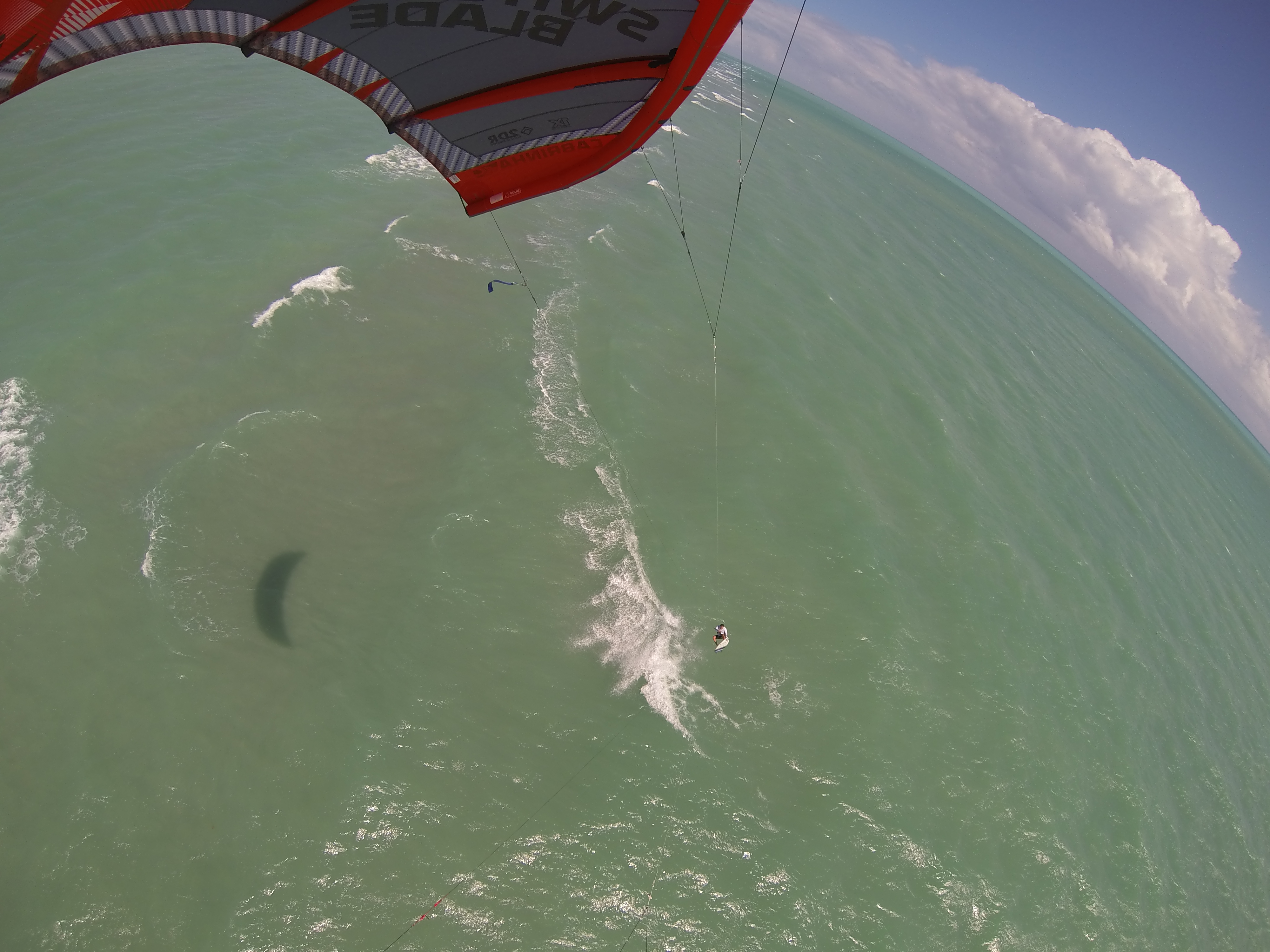 February 23rd, 2016 started as normally as thousands of other windy days that I have enjoyed in my 30 plus years in the ocean. It was a typical Miami Winter day, with a nice solid breeze but more unusually out of the Southeast. Windy Southeast days are special in Miami, and they do not happen all that often, but when they do it is a blast going frontside down the line regular foot. Needless to say I always try to score SE days.
I arrived at Crandon Park at about 11:30. When I got to the beach it was a beautiful day. Warm and sunny with the wind blowing a solid 15 – 20 and nice surf registering at chest to shoulder high. I didn't have all day and I love to ride powered so I rigged my 11m Switchblade with my 5 6″ Skillet and headed out for a nice session with my good buddy Tim Barber. The first half hour was mostly uneventful, but very fun. Tim and I trading waves and enjoying the day as we usually do. We generally ride where most people never go when riding at Crandon. The wave break sits about a half mile off shore, and the waves break all along a sandbar that stretches from Crandon all the way down to Fisher Island. The waves are generally bigger and more fun at Virginia Key, which lies in between Crandon and Fisher Island. Usually on our typical NE frontal winds that would be a 20 – 30 minute trip upwind, but with the wind blowing from the SE it was an easy shot off the wind to the Bear Cut marker, which is situated on the South side of Virginia Key.
I had just finished catching a long solid section of re-connecting waves that stretched from the North end of Crandon to the Bear Cut marker. I tacked my board, and headed back upwind for the trek to rinse and repeat the face smacking goodness. I was heading back upwind on Port tack at full blast when all of a sudden I felt a massive searing pain in my left foot. I looked down to see my foot covered in blood, but I was still traveling at full speed. I immediately jumped off my board, and thought that maybe I had hit something on the surface of the water with my foot because I hadn't lost an ounce of speed. I flipped my board over and nothing, not a scratch. I parked my kite at 12 o'clock  and lifted my left foot on top of my surfboard while floating to see what was going on with my foot. The pain was pretty bad, and I have had enough injuries in my life to know when it ain't gonna be good. I brought my foot out of the water to see blood streaming from my heel. I exposed my foot out of the water to see a huge hole on the side of my heel. It was larger in circumference than a quarter, and torn up with inner portions of my foot's flesh pulled from the inside of my foot out. My foot looked really bad, and I had a secondary cut underneath my heel that was bad, but not severe. At this point, with the blood loss that I had, and not knowing what the heck just happened I knew I had to race back to the beach as quickly as possible. As I mentioned, I ride well off shore from the launch at Crandon. It usually takes me a good 5 minutes to return to shore if I am going downwind on a typical NE day, but since this happened to be a SE day I had to beat back upwind to make it back to Crandon.
I quickly plopped my bloody left foot on the deck of my board and dove my kite to get going back to Crandon. I knew time was of the essence, and I needed to limit my blood loss as much as possible. I took the heel of my foot, and pushed it as hard as I could into the deck of my board – trying to compress the wound as much as possible. Obviously this created a wonderfully insane amount of pain in my heel to the point of almost getting sick in the water. It took me a few tacks to make it back but after about 5 or 6 minutes I made it back just to outside edge of the launch corridor at Crandon. At Crandon there are very specific rules about where you can launch, how you can launch, and where you can go in and out. Obviously, at this point I did not care about the rules too much, but as I approached the beach marshal was sounding his horn, and waving at me like, "Come on man – you know better!" In fairness to him, I absolutely do know better, and would never do what I did that day. As the beach marshal caught my kite he was about to read me the riot act, when before he could get really upset, I lifted my exploded foot in the air. I saw his face, and he was immediately understanding of my situation. He looked at my foot, now concealed by a lot of sand, and asked if he wanted me to call the beach patrol or fire rescue. At that point I didn't feel too dizzy, and the pain was not nearly as bad when I wasn't slamming it into the deck of my board. On the contrary, compared to the pain I had experienced it had subdued a fair amount. I decided to carefully wrap up my gear and head back to make a trip to the ER. Before I left Tim came screaming back to the beach to see what had happened to me. He knows I rarely, if ever, leave before he does, and knew something was not right. I showed him my foot, and he laughed and said, "good thing I am wearing my shark repellent band." I thanked him for his concern, we laughed, and I finished wrapping up my gear, not realizing that I should have grabbed my bar, but that is another story.
On my way home I called my wife to let her know I was coming back wounded. After she heard the story I think she was a bit freaked out, but trusted that I was well enough to make it to her safely. When I arrived home I had her really take a loot at it. The impact was in an awkward place, and I really could not see the full extent of the damage. She took a a look at it, and said, "We are definitely taking you to the ER". I asked her to then snap a picture so I could see the extent of the wound, and she took the following shot.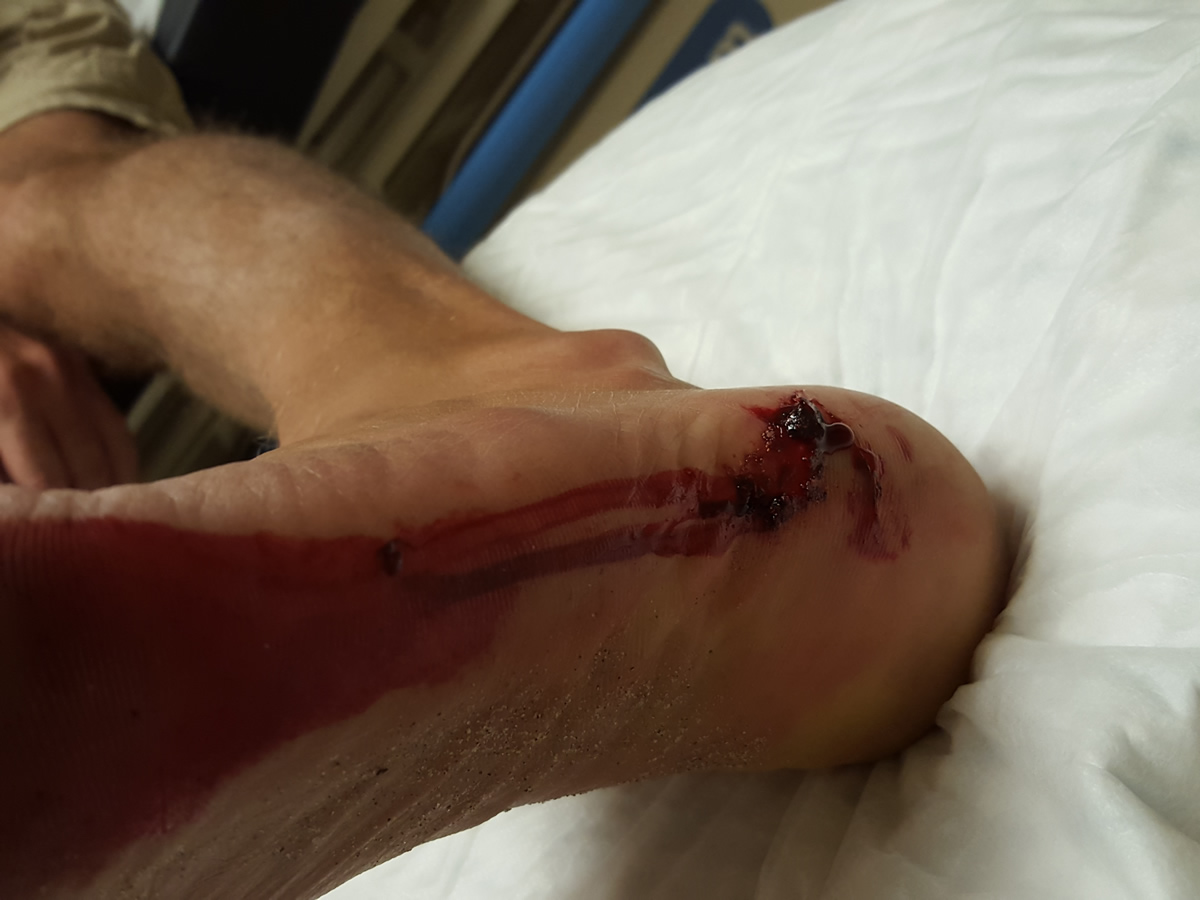 My wife and I drove to the closest ER clinics near our house. I hobbled over to see a full waiting room. As I approached the desk the receptionist informed me that it would be a minimum of two hours to see a doctor. And these are the fast ER places. So back in the car we went, and called another ER this time we got an ETA on seeing a doctor. They told us on the phone that they were not that busy and it should not be a long wait. So we drove over to the place which was about 15 minutes away from the first ER clinic. We checked in to the new clinic and sat down to wait to see a doctor. Unfortunately, it took a lot longer to see a doctor than I had anticipated. Meanwhile I still had not cleaned out my foot, bandaged it, or even really washed it. I was just sitting there in the ER with my heel hanging out. Not a pretty sight! While I sat there with my wife, I had plenty of time to think about what could have happened, going over the events in my mind. Since I never saw anything, lost any speed, and my board was completely undamaged I concluded that I was speared by a fish that got spooked going the other direction. I have seen literally thousands of fish jumping near me while riding. This time my little fish buddy (revenge of the Sushi) must have hopped out of the water and proceeded to launch head or fin first into the side of my heel. I could feel that whatever hit me had penetrated deep into the middle of my heel traveling about 1.5 inches through the fleshy part of the center of my heel. The way the side of my heel looked it must have gone in a lot easier than it went out, or the fish struggled violently getting out because it tore up the outer side of my heel quite badly. All the while I never saw what hit me. It happened so fast all I felt was the pain. I never saw the offending fishy.
Fast forward to 3:30 and I am finally in a room to see the nurse. She looks at my foot, and doesn't really know what to make of it. I tell her the story, and she is like, "So what did you say happened – You say a fish stabbed you?" Let's face it, most people don't even understand kitesurfing, and when you compound that with some whacked out story of a fish spearing me it got quite interesting. Then the doctor and two more nurses come in the room. The doctor looks at me with a bit of disbelief, and says, "Can you please explain to me what happened," while she starts closely examining my foot. I explain the story again, and the whole room is now interested. Let's just say I was the first patient they had treated with a wound like mine. I guess there is something to cherish! The doctor cannot get a good look at my foot because it is loaded with sand and blood. She asks the nurse to fill a big plastic container with about 32 oz. of Iodine and Saline Solution. She advises me that my foot will need to soak for at least 10 – 15 minutes to be able to see what is really going on with my wound.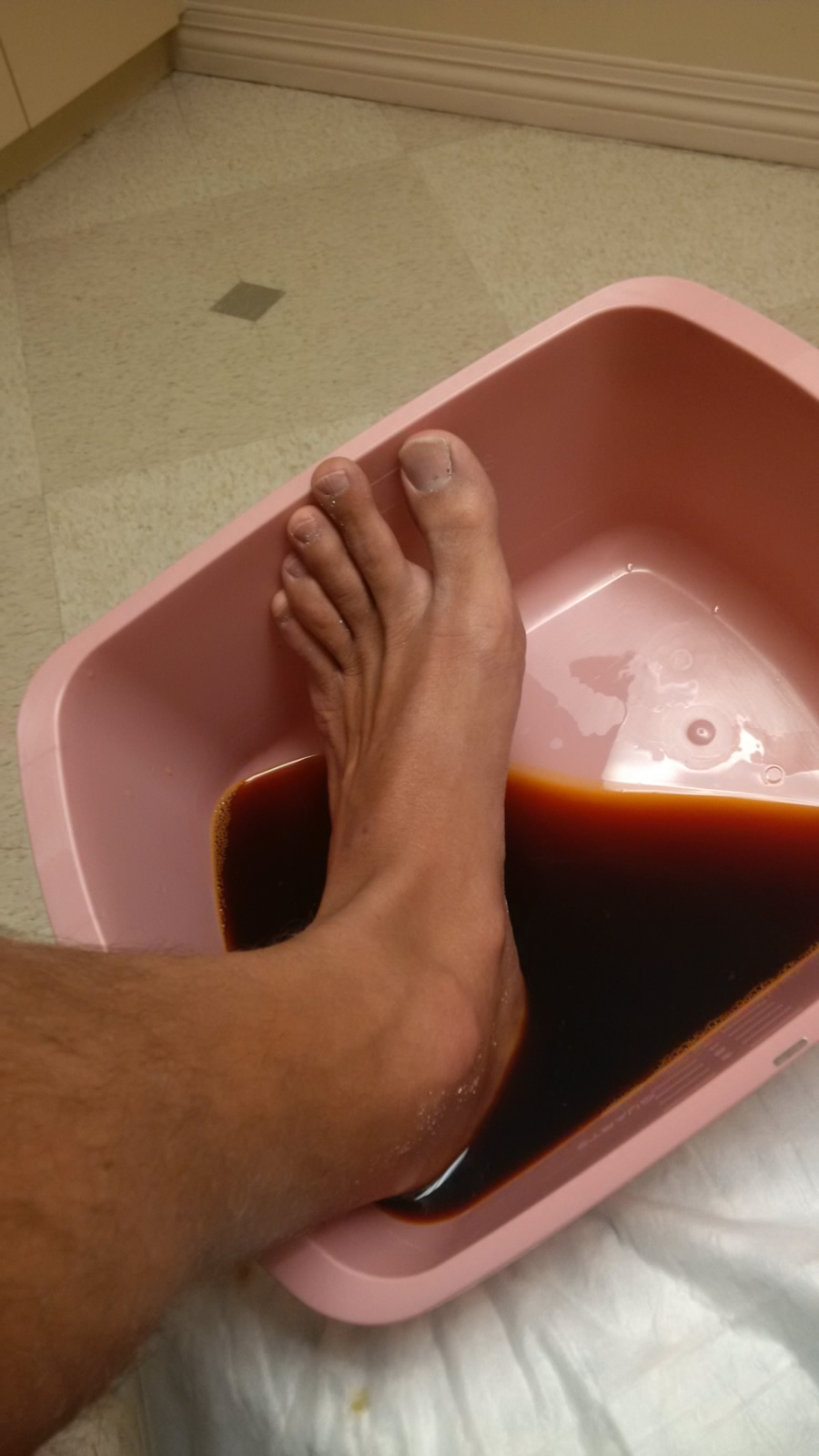 So after about 15 minutes of a warm and wonderful Iodine bath the doctor arrives back in the room to see if she can get a good look at my foot. By now most of the exterior junk has washed away, but my foot is still packed with sand, and potentially something else which has her a bit concerned. She then tells me to lie on my stomach to clean the wound. I would have to say that cleaning the wound was far more painful than receiving it in the first place, probably because I knew what was coming. She was very thorough and got it quite clean. All the while my wife is observing and giving me the play by play. She even found what could have been a foreign object in my foot, but we were not sure whether it was from the beach or the fish. Once she got it relatively clean she told me that the flesh was so badly damaged that she could not stitch the wound closed effectively, and that the best course of action would be to basically super glue the whole thing shut and use steri strips to keep the wound closed. So that is what she did, and after that my foot looked like the picture below.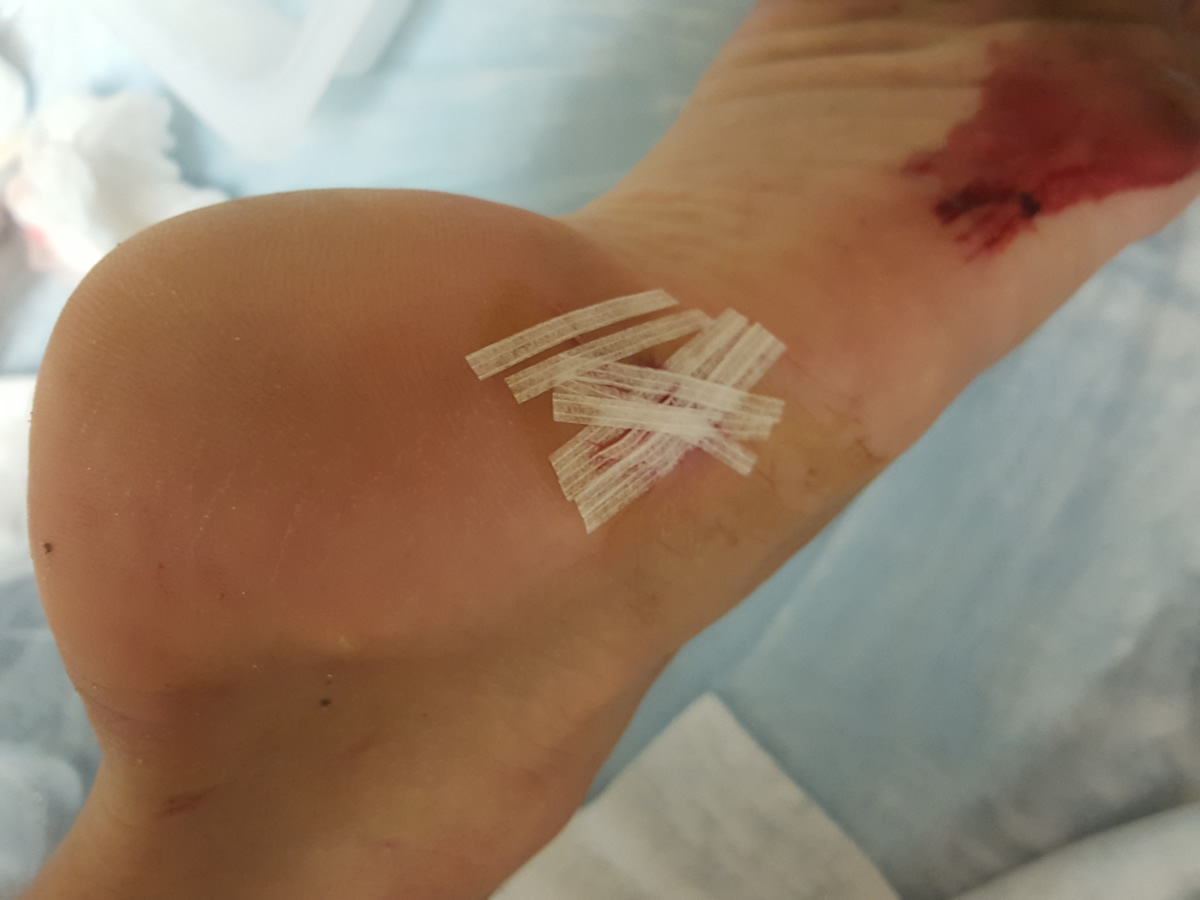 I left the ER on crutches, in a lot of pain, a prescription for a 7 day course of antibiotics, and instructions to put no weight on my foot for at least two days. I asked her how long I would be out of the water and she said, "maybe a week". Let's just say it was a bit longer than that…..
I knew that they were going to give me antibiotics, but they wreck my system, and I have had pretty adverse reactions to taking them in the past. I told the doctor during my visit to the ER that I really did not want to take them unless she felt it was absolutely necessary. She explained that we had no idea what attacked me, what could have penetrated my heel, and that the chance of infection was very real. She also explained that salt water is extremely "dirty, and not as clean as many people believe." Thus I decided to closely monitor my temperature, and we kept a mindful eye on the wound area, but I didn't take the antibiotics initially. About 5 days after the incident I began taking the antibiotics because the wound area became quite warm, and was also tingly. Rather than chance an infection my wife and good old mom insisted that I take the full course of antibiotics.
As of this post I am happy to report that I celebrated my first day back on the water today, Wednesday, April 6, at Crandon Park! A quick shot of the beach before heading out.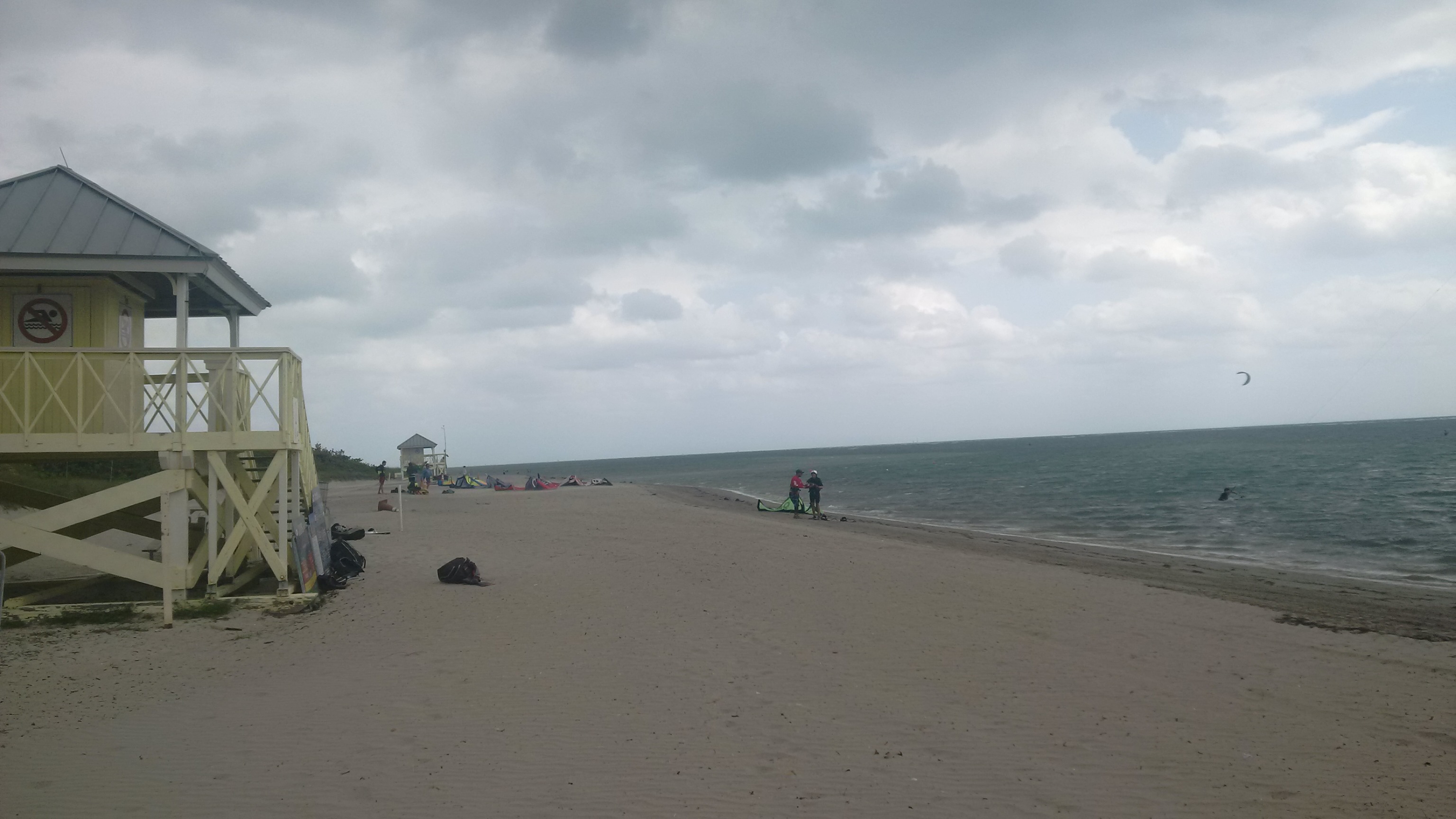 It was a long road, and today's session was still very rough on my heel, but it was a real joy to be back in the water and spot that I love as much as life itself. Every time my heel bounced on my once blood soaked deck of my board, I was reminded of the injury I had sustained a little more than 6 long weeks before. It felt like a needle was still poking my heel when I was riding, and I hope that this symptom will recede in the near future. It took me weeks to be able to just walk, and almost four weeks before I could start wearing a shoe. I still catch myself walking at home lifting my left heel and walking on the ball of my foot. The wound was much more severe than we all realized at first, and what was most painful was whatever punctured my heel. It left a good amount of scar tissue, and I can still feel a large raised portion of tissue on my heel – a permanent reminder of my encounter with my fish buddy, one that I am sure he would have avoided as much as me if we could have. I still wonder if something else is in my heel, and probably should go back to have it X-rayed to see if there is any foreign matter in there. Although, one would think that my heel would have blown up like balloon if there was something in there that shouldn't be. All in all sometimes life reminds you very quickly how precious it is, and how everything can change in an instant. It has been a real blessing to have been able to enjoy all my years in the ocean, surf and wind. Nothing can replace that feeling, and nothing ever will. Hopefully here is to another 30 years in the ocean doing what I love. And if the price of admission includes another visit from my fish buddy then so be it…. Now, I wonder what is on the Sushi menu this week. 🙂 Keep Ripping!